There was chat on our Facebook page recently about how eye wateringly expensive KitchenAid mixers are. I waited a long time for my first one. I'd started Blue Door Bakery and decided I'd survive with my tiny hand mixer until I'd made enough money to buy the KitchenAid I'd been dreaming of. It took 500 cupcakes and a lot of icing sugar mess before I finally splashed out.
We now have lots of them at the studio (there they are, in the photo above) for our lovely students to use when they visit us. It was a big decision and a big expense but everyone loves them. They are like part of the family.
One thing's for sure. Once you do get one, it's a love affair that lasts. I don't know if it's because most people who buy one have had to wait and think long and hard about it. Or perhaps it is because they perform brilliantly. Or maybe it is just purely down to how utterly, heart-stoppingly beautiful they are.
So, once you've welcomed one to your family, here's some KitchenAid things we love and thought that might brighten up your day too..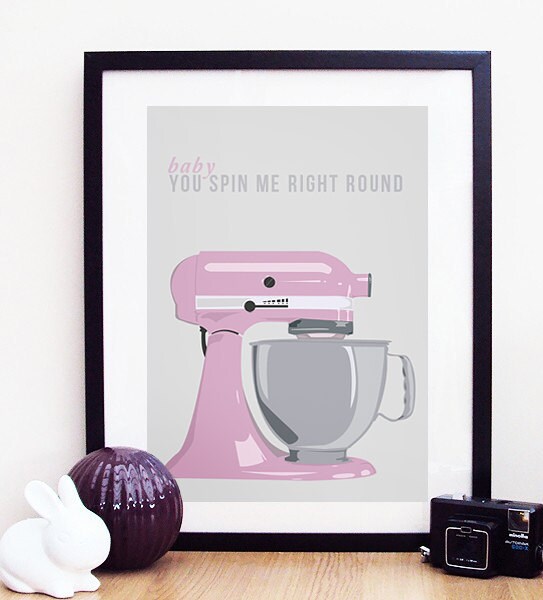 This print is available here KitchenAid Baby You Spin Me Right Round and they'll print it in any colour you like. We have one of them in the studio matched to our exact Kitchen Aid mixer colour. I know we're baking geeks.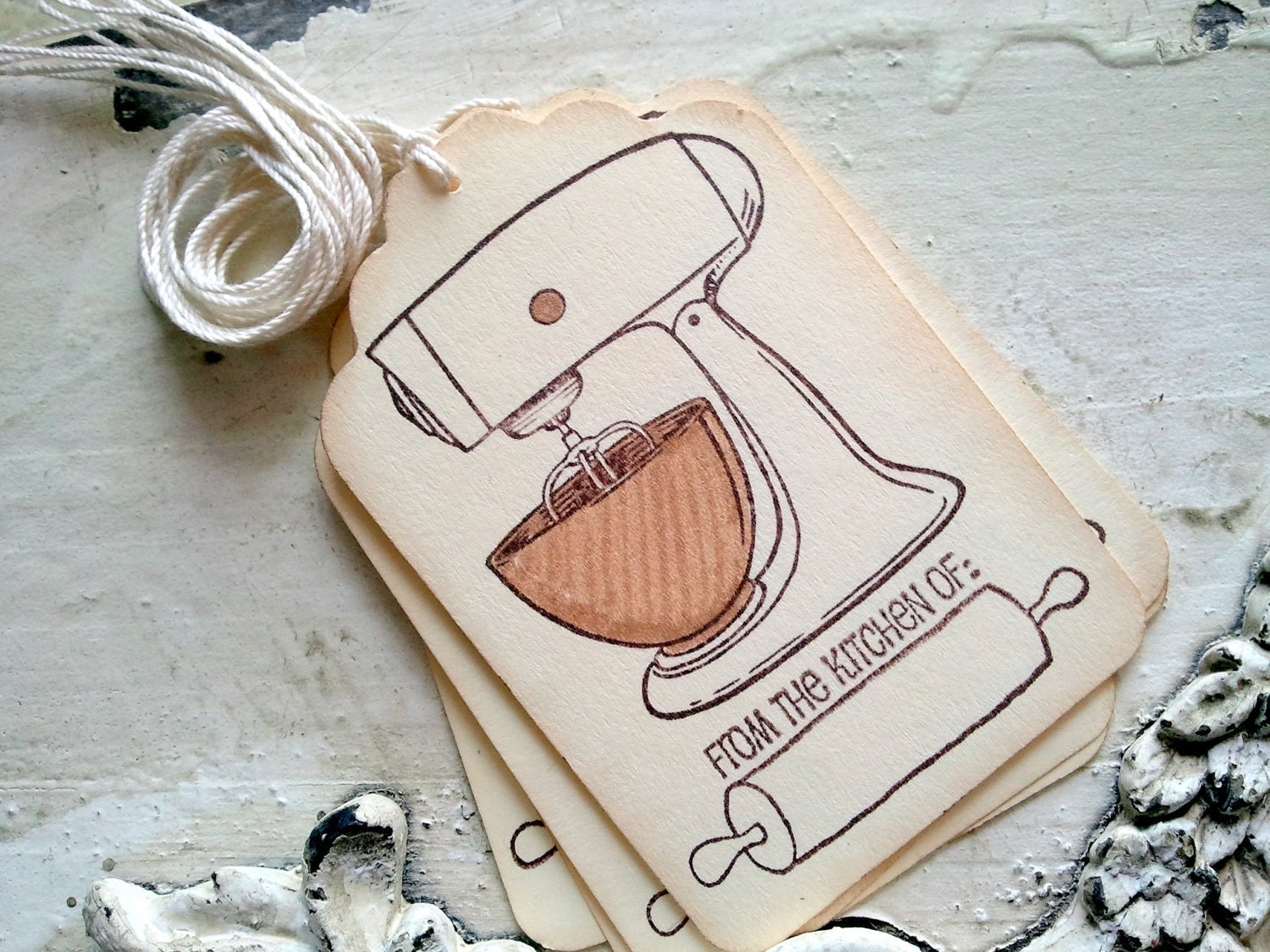 We're a bit in love with these little tags. Give the gift of cake. They are available here Baked Food Labels Kitchen Tabs.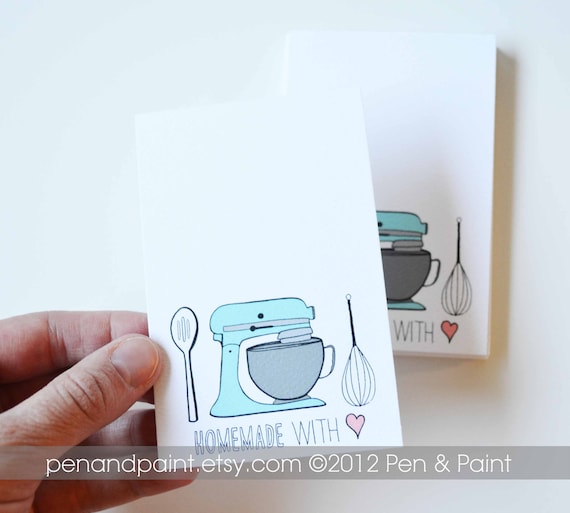 These are such pretty little cards to send to someone who shares your baking love. With postage from USA they aren't the cheapest notecards ever but they are beautiful. You can get them here Mixer, Kitchen Set of 24 Homemade Cards.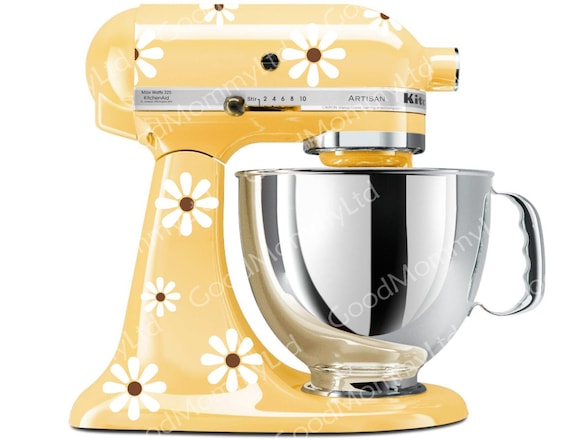 If the 27 KitchenAid colours available aren't enough for you, you can add a little something to personalise it KitchenAid Stand Mixer Decal. They are available in loads of different patterns and colours.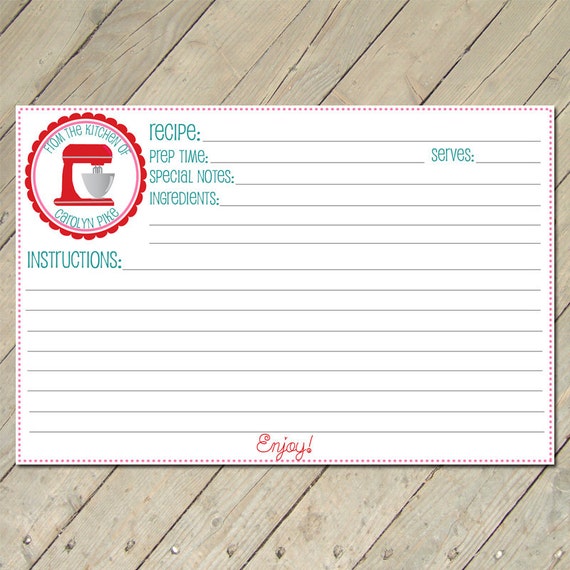 These personalised recipe cards can be printed in a whole selection of colours. They'd make a great gift for a KitchenAid lover. You can get them here: Personalised Recipe Cards.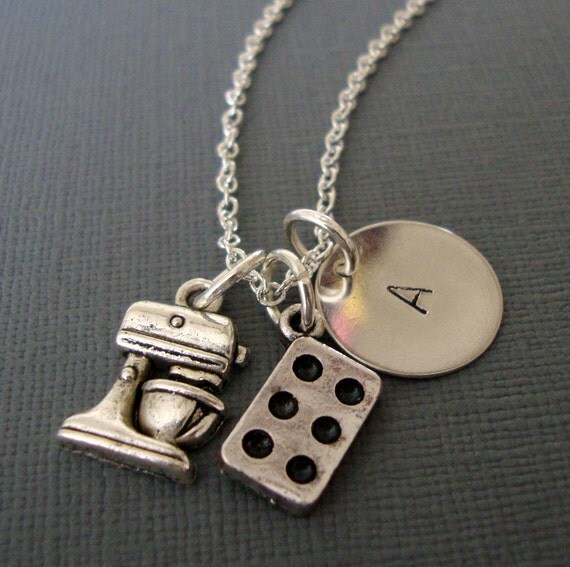 Tell the world about your KitchenAid love affair with this Silver Kitchen Mixer and Muffin Tin Charm Necklace.
If you have a KitchenAid, do you love it? If you're lusting after one, what colour will you get? Does anyone else kiss theirs sometimes? Err..
Sarah x